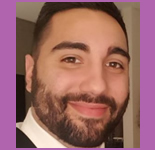 Daniel Kastanis, first started working for the Bradford Group as a college intern. Upon graduation he started as a full time team member, first as a PR Assistant and then moving up to the position of PR Account Executive.
Dan is responsible for coordinating and providing support for all Bradford Group client projects. He is also responsible for the coordination of special events, media tracking and research, client media reports and distribution of promotional materials, Dan also oversees The Bradford Group college internship program.
With cultural tourism trending, Dan's extensive background in history, including European history, brings a certain insight into identifying potential cultural programs that would enhance a client's promotional activities. Dan also brings with him several years of event planning experience from previous work positions.
Dan received an Associates in Arts from Schenectady County Community College (New York State) with Dean's honors. Shortly thereafter, he earned a bachelor's degree in History at the State University of New York at Old Westbury , where he was inducted into the National Historical Honors Society (Phi Alpha Theta).
An enthusiastic traveler himself, Dan has visited countries on four continents and enjoys sailing and scuba diving on vacation. As an avid musician and patron of the arts, Dan spends his free time playing music and exploring the diverse cultural scene New York has to offer.